Build Your Own Hegen Bottle
Regular price

Sale price

$0.00
Build your own Hegen Bottle. Mix and match bottles, teats and other accessories in any size or colour you want! You can now build a bottle tailored specially to your little one's needs, or even create a matching set of bottles for your entire family!
Share
A Hegen By Me Bottle, A Personalised Baby Gift
From the colour of your choice, to the teat flow that best suits your little one, Hegen By Me lets you customise your baby's feeding bottle the way you want it. Truly a gift from you to your child, personalise it with a name and never have to worry about mixing up the bottles between siblings or with another Hegen baby at childcare.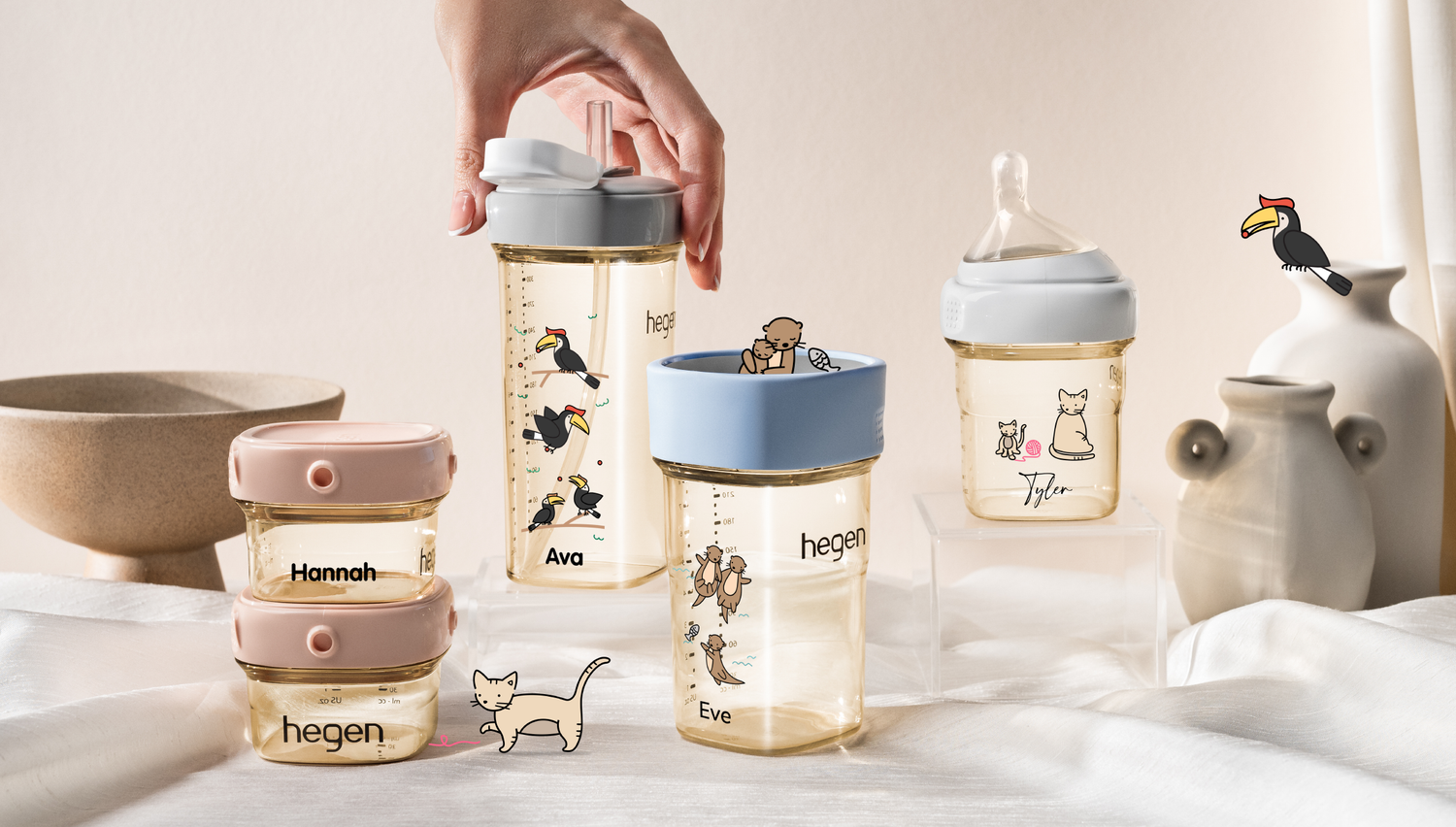 The Island Friends
Honouring Singapore's rich biodiversity with our newest Hegen By Me designs named 'The Island Friends'. Bring a splash of colour to Hegen By Me for the first time and build your own Hegen bottles with three designs inspired by Singapore's fascinating fauna: the Otter, Singapura Cat and Oriental Pied Hornbill.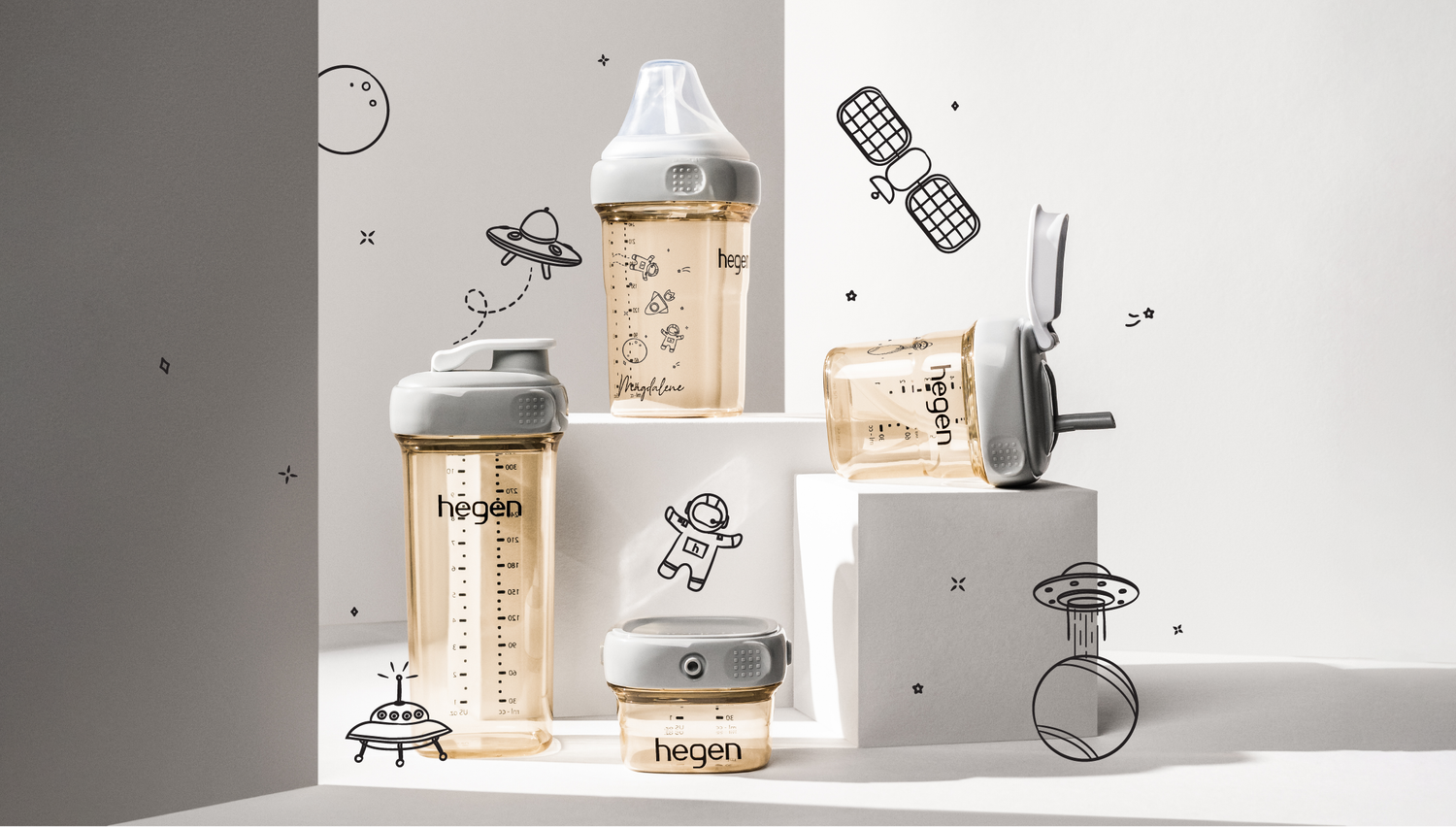 Across The Galaxy
Embark on a cosmic adventure with our Hegen By Me 'Across The Galaxy' prints! Get ready to blast off with two captivating designs that will fuel your little one's intergalactic wonder. You can choose to explore the galaxy with 2 exclusive designs - our cool Spaceships and orbiting planets or be accompanied by brave Astronauts while charting the course to an undiscovered world. Celebrate the curiosity and individuality of our young explorers with our out-of-this-world space themed collection today!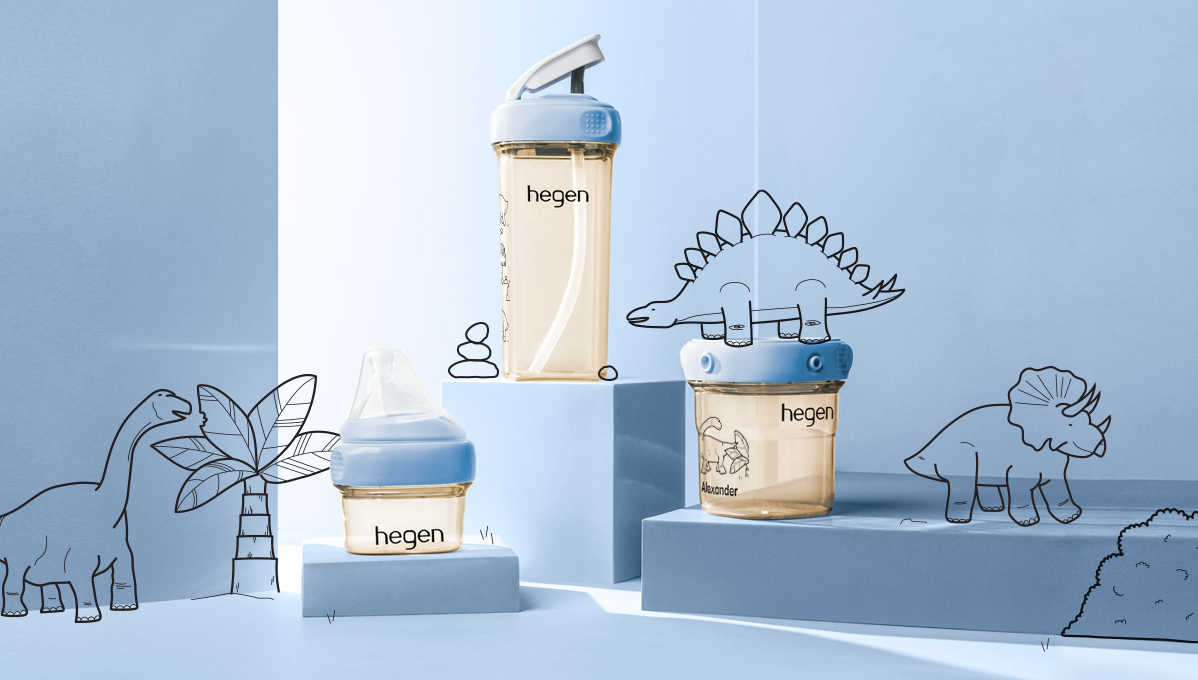 The Roarsome Three
Is your little one going through a Dinosaur-craze? Our latest Hegen By Me Print "The Roarsome Three" features a series of three dinosaur prints that will spark the imagination of children. From the sweet and gentle Brontosaurus, to the brave and sturdy Stegosaurus, to the three-horned energetic Triceratops – these playful prints are bursting with fun and curiosity that will help fuel your little one's sense of wonder and discovery, making dinosaur-loving kids roar with delight.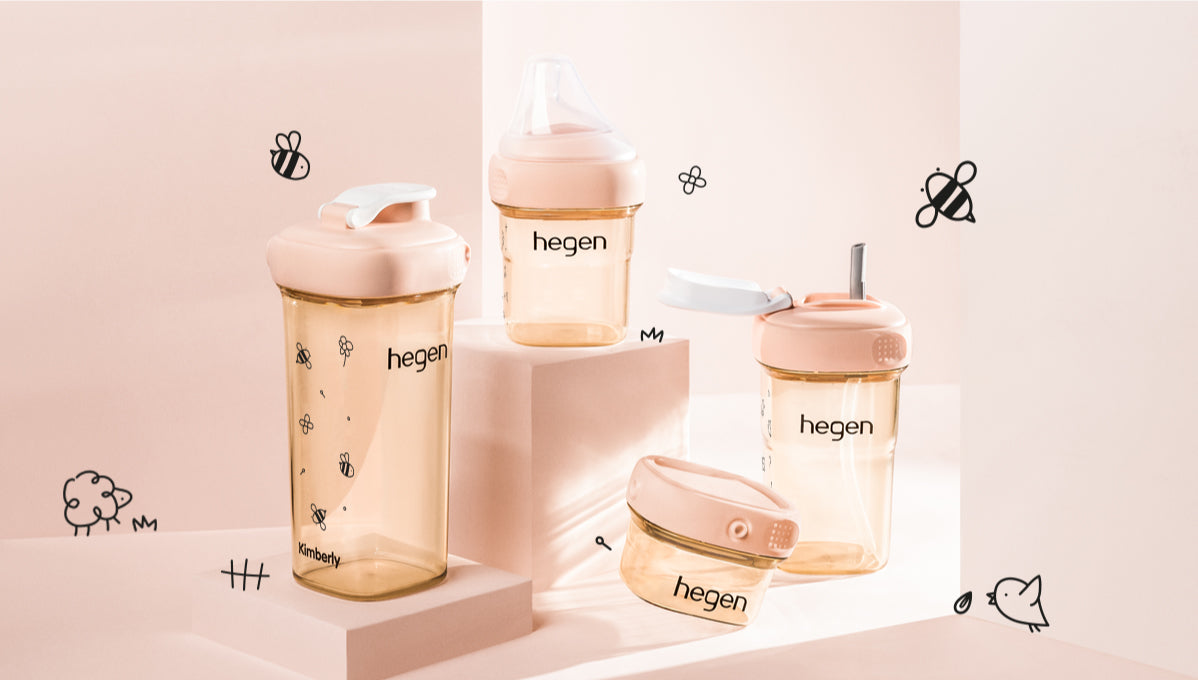 Bonding Through Feeding
Take the bonding experience with your little one to the next level and make your feeding sessions interactive with illustrations of Bees, Sheep and Birds on the bottle. Share with your child the sounds the animals make, the nursery rhymes or even stories to keep your child engaged while feeding!
*All pictures shown are for illustration purposes only. Actual product may vary.
What Can I Customise?

Hegen By Me is more than just a feeding bottle – we offer you the chance to custom your baby's feeding experience like never before. Our modular feeding system gives you the flexibility to create a bottle that meets your baby's unique needs. And with its ability to make for a great personalised baby gift, the possibilities are endless.

Here are the options you can choose from:

Bottle size: Whether you're looking for a small 60ml bottle or a larger 330ml one, the Hegen By Me system offers you four different sizes to choose from. This way, you can choose the size that fits your baby's needs perfectly.

Nipple flow rate: Our teats come in different flow rates that match your baby's age and feeding style. You can choose from slow flow, medium flow, and fast flow to ensure your baby is getting just the right amount of milk.

Bottle colour: The Hegen By Me bottle is available in a variety of colours, including fun designs such as dinosaurs and bees. Choose from pink, blue, grey, and white - or why not mix and match to create a unique look?

We also offer a variety of custom accessories, including handles, spouts, and storage containers, so you can ensure the bottle is functional for your baby's needs. And with our unique square-shaped design, our bottles are easy to assemble and disassemble, allowing you to create a personalised baby bottle that's perfect for any family.

At Hegen, we believe that your baby's feeding experience should be convenient, easy, and tailored to your needs. Whether you are a new parent or an experienced one, or simply looking for the perfect personalised baby gift, our modular feeding system offers you a unique product that stands out from the rest. Choose Hegen by Me to create a feeding experience that's as unique as your little one.
Gifts for Mum

Looking for the perfect gift for a new mum? Hegen has you covered.

One of our most popular gift ideas is our Hegen PCTO™ Double Electric Breast Pump (SoftSqround™). These pumps are designed to help new mums establish and maintain a steady milk supply for their little ones. They are easy to use, hygienic and powerful, providing a comfortable and efficient pumping experience.

We also offer a range of breast milk storage bottles and other breastfeeding accessories. Our accessories are made with the same attention to quality and safety as our bottles, ensuring a comfortable and convenient feeding experience for both mother and baby.

At Hegen, we are committed to providing products that are both safe and functional for babies and parents alike. Whether you are in the market for personalised baby gifts or supplies to make your breastfeeding experience better, we have everything you need.